The Lipsiator – As the name suggests, the Lipsiator lives in the city of Leipzig. It would never occur to him to call it "the most beautiful city in the world". But everyone in Leipzig agrees that their city has a certain flair and that you can live well here, even if you live in the "Platte", buildings made with precast concrete slabs. Leipzig is the largest city in the Saxony, but no one in Leipzig will fancy it, and they are not jealous of their capital. They are doing like their ancestors 150 years ago, when the King of Saxony simply ignored their request for a few of his infinite works of art: They do their own thing. Their ancestors founded an art association and the "Museum of Fine Arts", while today's allied with the "Max Planck Society" and built the "Gondwana Land" for their zoo.
Although the Lipsiator was not born in Leipzig, he regards the city as his home. He grew up here and has lived here for most of his life. His children were born here, and this is where he buried his parents. His marriage was divorced here and he has celebrated the greatest successes of his professional life here. But he also suffered most of the defeats of his life here. But he got himself up again and again, and the way through the lowlands of failure has made him wise.
The lipsiator is retired. As a young man he went to sea in deep-sea fishing and then worked in various professions in the metal industry. He studied steel construction, and if it didn't help, it didn't hurt. At the beginning of the 1970s he became a computer scientist, and to this day he still regards developing application programs as his real profession. And even today he still programs small projects every now and then. He has two grown children, children-in-law and three grandchildren. He lives on the eastern edge of the city in a concrete prefabricated housing estate, and by the way: The prefabricated buildings are better than their reputation.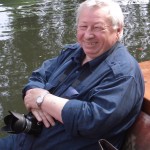 Lipsiator – amused
The lipsiator loves literature and he likes to write. You can see a few results of his writing work on his homepage. He is also interested in cultural history, architecture, visual arts and photography – a large part of the material on the homepage will consist of photos. He loves good food, well-tempered wine, and he likes to cook. In order not to rust, he rides a bicycle and attends a course in aqua aerobics. But he only does this for his health. When he wants to have fun, he unpacks his class C Tornado blowgun and shoots a few rounds at a blowgun target, down the corridor and traversing through the living room. You shouldn't get in his way …